Skip to Content
Boom Lifts From All-Lift
Boom lifts are the most versatile out of all other industrial lifts with models suitable for both indoor & outdoor use. Ideal for overhead work the distinctive feature of all boom lifts is the extending arm of the lift ending in a basket with the arm or "boom" extending 30-150 feet depending on the model. Designed to lift people not materials, boom lifts are the perfect equipment to help workings reach or move into a position to help complete tasks safely.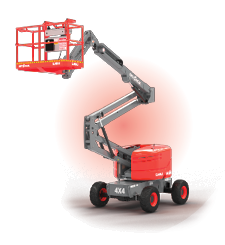 We Proudly Offer Boom Lifts From Skyjack
Telescopic Boom Lifts
SJ40/45 T+
SJ61/66 T+
SJ82/86 T
Articulating Boom Lifts
SJ30 ARJE
SJ45 AJ+
SJ46 AJ+
SJ60 AJ+
SJ85 AJ
Boom Lift Applications
Commercial and residential construction
Sign installation and maintenance
Stadium, airport and other public space maintenance
Commercial painting, pressure washing and sandblasting
Tree trimming & plant maintenance
Bridge and overpass inspection
Get a Free Quote on a Boom Lift
Still not sure what type of scissor lift is right for your business? Call one of our knowledgeable staff members for a free no pressure quote & expert advice today!
We Are Proud of Our Reputation and Service