Skip to Content
Unicarriers MXL40-MXL55H 4-Wheel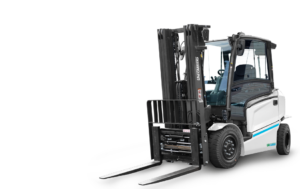 Applications
Lumberyards
Brickyards
Warehousing
Manufacturing
Recycling
The MXL Series offers dependable performance, quiet operation, and adaptability all while meeting a zero-emission footprint. Backed by an industry leading two-year warranty and excellent customer service, and designed with intelligent performance systems and lower total cost of ownership in mind.
Specifications
ADVANCED HYDRAULIC TECHNOLOGY
Designed with performance in mind, the load sensing hydraulics adjusts to load weight ensuring precise control of the mast and fork movements. (In forklifts without intelligent hydraulics, lifting and lowering feels very different when the weight of the load is varied).
In addition, passive sway control transfers some of the stresses and forces from the mast to the chassis of the truck allowing for confident control and durability in the mast when raising and lowering loads.
DESIGNED FOR MANEUVERABILITY
MXL Series features 100+° rear turning axle for increased maneuverability and the ability to perform instant "side turns" without the need for initial reverse movement.
Intelligent curve control smoothly adjusts truck speed when the truck senses that it is cornering at speed to minimize side forces and protect operator, truck, and load.
KEEPING THE OPERATOR IN MIND
Electronic differential locks out front wheels to increase traction on slippery surfaces – this is activated automatically at small steering angles or manually via an optional front pedal.
Ramp hold automatically activates the parking brake when on a ramp to hold position and prevent rollback when working on a grade and removing foot from accelerator pedal.
OPERATOR CONTROL AND ERGONOMICS
Engineered with an ergonomic operator compartment in mind, the MXL series includes an optional fingertip control armrest that is fully adjustable, economically designed, and allows for comfortable hand-positioning, anatomical support during operation, and free movement.
In addition, a preset ECO and PRO performance modes allow for customization of settings to accommodate the needs of the application and the skill levels of the operators.
An optional temperature-controlled cabin quickly heats up or cools down for optimal operator comfort in all weather conditions. Sliding windows on each side of the truck help weatherproof the cabin and aid in visibility.
We Are Proud of Our Reputation and Service