Skip to Content
Scissor Lifts From All-Lift
Scissor Lifts are some of the most stable of any industrial lifts due to their sturdy & heavy bases that serve as anchors to allow the operator to drive the lift even when extended.
The scissor lift earns its name from its extension mechanism, which opens vertically — or accordion-style — between the base and the work platform. Since the entire machine doesn't extend beyond the footprint of the base, scissor lifts are easy to store & take up less space in your storage or warehouse.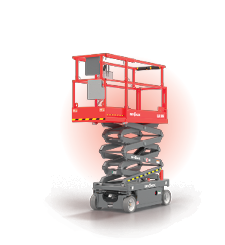 We Proudly Offer Scissor Lifts From Skyjack
Electric Scissor Lifts
SJ3013 Micro
SJ3215/19
SJ3220/26
SJ4726/32
SJ4740
Rough Terrain Scissor Lifts
SJ6826/32 RT
SJ9233/43/53 RT
SJ9664 RT
Scissor Lift Applications
Electrical and HVAC maintenance & construction
Theater, church, museum and convention center setup and maintenance
Warehouse and stadium maintenance
Aircraft and ship manufacturing
Commercial and residential painting, pressure washing and sand blasting
Get a Free Quote on a Scissor Lift
Still not sure what type of scissor lift is right for your business? Call one of our knowledgeable staff members for a free no pressure quote & expert advice today!
We Are Proud of Our Reputation and Service